29 Sep

Alvic launches the new surface zenit, with matte finish and higher resistance

The new product from Zenit, which is available in supermatt and mataldecó finish, is presented in eight trendy colours.

Always based on the strong commitment towards innovation and technological development, Alvic, a leading company in the manufacturing and distribution of components for kitchen furniture, bathroom, home office and company in general, besides projects of interior design and decoration, launched the revolutionary new surface finish ZENIT, soft to the touch, very resistance and in a matte colour

Zenit is a product created with the latest technology and which also has the Alvic seal of quality and exclusivity, for whose development the company has invested more than a year of R & D + I.
This new surface is characterized by an increased resistance to scratching, abrasion, wet and dry heat, and superb performance and resistance to common cleaning products, compared with similar products on the market. Zenit is sold with finished table-top and board, manufactured with Alvic's Laser Tech, giving the product a better finish and durability.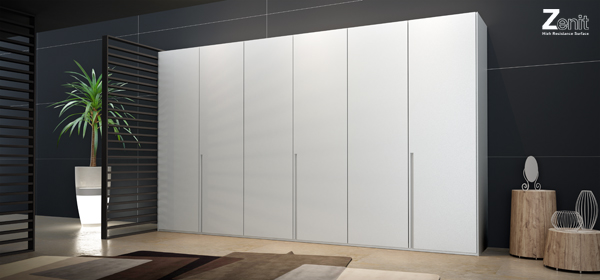 Alvic presents this new range in two finishes, Supermatt and Metaldecó, recommended both for vertical applications in furniture projects and interior design, being able to acquire it in 8 different colours. With this new release Alvic expands the range of possibilities in design and décor in the sector.