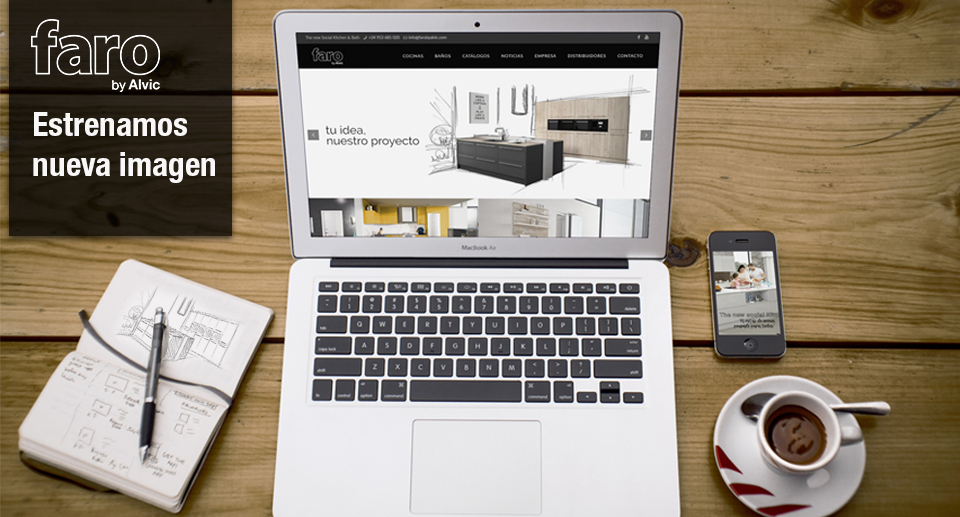 30 Mar

Faro by ALVIC presenta su nueva web

Faro by ALVIC, empresa de nuestro Grupo Empresarial destinada a la fabricación y distribución de cocinas y baños, concibe el mundo de la cocina y el baño como un entorno de socialización donde el estilo es apto para todos los públicos. Tras un continuo estudio de las tendencias del mercado lanza una nueva imagen que pretende dar frescura y acercar al consumidor bajo el lema The New Social Kitchen & Bath. La versatilidad de sus colecciones, que integran la calidad y vanguardia del producto ALVIC hacen que pueda adaptarse a todo tipo de cliente y crear un proyecto único que abarque todos los estilos: desde los más clásicos a los más modernos.

Un nuevo logo, una nueva web (farobyalvic.com) y 2 nuevos catálogos integran un marco único que la marca ha presentado en Feria Valencia, en Espacio Cocina y Cevisama 2017. Su mensaje al profesional es claro y conciso "Tu idea, nuestro proyecto" una forma de trabajo a través de la que pretenden ofrecer un amplio abanico de posibilidades a los profesionales de la cocina y baño que necesiten adaptar sus diseños a las exigencias de sus clientes.

De esta manera, Faro by Alvic Cocinas representa un nuevo catálogo pensado para todos los públicos. Por ello se trata de un catálogo de cocina versátil donde conviven diseño, funcionalidad y durabilidad, gracias a una garantía certificada de 10 años y a su gran repertorio de colores, formatos y texturas. Su colección de cocinas se presenta en cuatro gamas, Flat, Pull, Post y Quadro, con texturas que reinterpretan el concepto de la cocina con colores y acabados de alta calidad en alto brillo, mate, maderas, tejidos, piedras naturales y óxidos. Por su parte, con el diseño como protagonista, la colección de muebles de baño Faro by Alvic Baños: The New Social Bath destaca por su gran capacidad de almacenaje y una amplia gama de colores, que pueden integrarse con cualquier estilo. Están disponibles en once modelos que se presentan en alto brillo, mate, tonos madera y piedras naturales. La colección completa presenta distintos módulos, columnas y estanterías auxiliares, frentes con tirador integrado o auxiliar, así como la posibilidad de integrar el lavabo dentro del mueble o incorporar uno sobre la encimera.